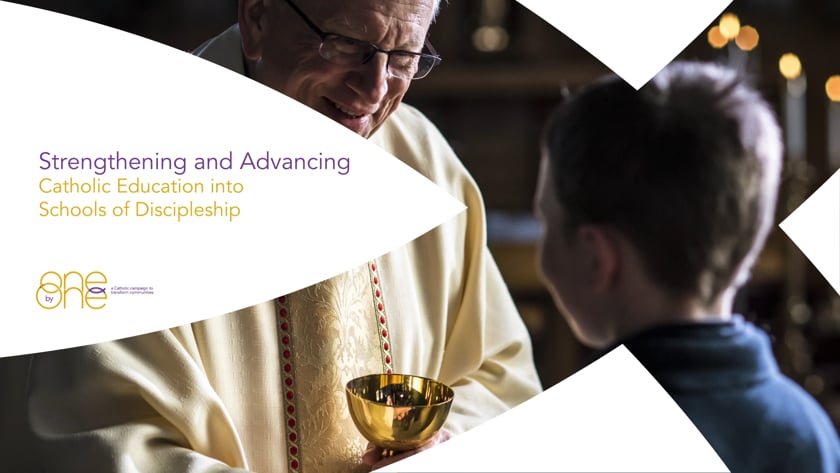 Helping Others Discover Christ
Providing opportunities for people of all ages to discover Christ is an integral part of our mission as a Diocese. An investment in our parishes and schools is essentially an investment in the future of our Church. Ensuring the vitality of these diocesan institutions and the dedicated people who give them life through their service and dedication will result in families, young adults and children who are inspired to share Christ — in the real world and digital spaces they gather.
Helping Lead All People To Discover Christ
"It is not enough to discover Christ — you must bring Him to others! - Saint John Paul II
Forming Families, Educating our Youth and Growing Disciples
Just as Jesus called His first disciples to follow Him, one by one, He is calling each of us.
When the Apostles saw the five loaves and two fish, they questioned how they could possibly feed the 5,000 gathered. We may also be questioning how Christ intends for us to help share His Good News. We, too, are few in number, and the need for Him in our world today is great.
The one by One campaign will support:
Forming Families of Faith and Inspiring Young Adults
Creating a Catholic Education Leadership Endowment
Building a Tuition Assistance Endowment
Strengthening Catholic Schools and Facilities
Embracing Emerging Technology
Questions about what your schools will receive
That is correct!  There is financial assistance for low income families to have access to Catholic schools.  This campaign addresses giving access to middle income families to attend Catholic school as well.  This will give more families access to affordable Catholic education throughout northeastern Wisconsin. 
Through this campaign we can help many students who attend Catholic schools to be more likely to pursue vocations and become Catholic leaders.  A  student who pursues a vocation could become a pastor or a leader in one of our parishes.  These programs support the future generations of Catholics. 
Catholic graduates carry faith filled morals and convictions that transcend in their professional and personal life.  Statistically 99% of Catholic students graduate high school and have leading academic scores.  Students will be educated in cutting edge academics while also learning about our Lord.  The small group setting allows great one-on-one attention for a student as well.