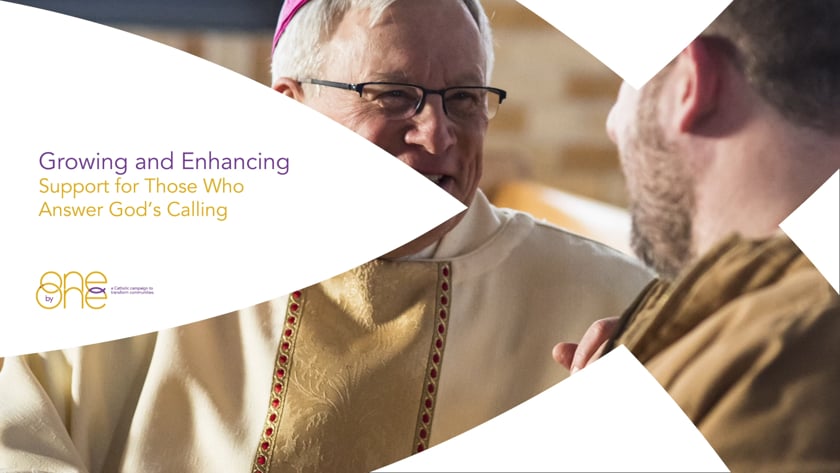 Growing Vocations
The priesthood is essential to the Catholic faith. Only these holy men can consecrate our gifts of bread and wine into the life-giving Body and Blood of Christ and inspire us, through their vocations, to love and serve Jesus Christ as a community of faith.
Although God continues to call men to the priesthood and women to religious life, the noisiness of today's world can obstruct this message so vital in our Church. Ensuring that men and women continue to hear and answer God's call is a top priority for our Diocese.
Support for Those Who Answer God's Call
"A vocation flows from the heart of God and blossoms in the good soil of faithful people." - Pope Francis
Help people who are exploring their faith and vocation to God
Provide our Diocese with greater opportunities to be present in the places where people who are considering a vocation live, study and pray by:
Enhancing the marketing and outreach efforts of the Office of Vocations

Ensuring the ongoing financial support of those in priestly formation and education

Caring for our senior priests
Supporting renovations and improvements at Camp Tekakwitha to better promote spiritual growth of our youth
Increasing our presence and engagement within regional colleges and universities
Questions about what your seminarians will receive
In recent years, planning studies have shown that there is a need for younger outreach in vocation awareness and as a faith community we need to be present in the lives of our youth and young adults when they are making life-defining decisions. It is through this presence the seeds of a vocation are planted.  These are some of the places our future priests discover their vocation and enhancing the reach of Campus Ministries and Camp Tekakwitha will allow for many more to consider a religious vocation.
Funds raised from the Seminarian Collection ensure the ongoing support for seminarians in formation and those considering a vocation to the priesthood.  The current funding levels would be insufficient with any increase in men considering the priesthood, any additional length of time added to formation or any decrease in the Seminarian Collection.  These funds would provide a stable stream of income to support seminarians for years to come.
Our priests have devoted their lives to bringing the love and healing of Jesus to all of us.  When these men retire they are often living on a modest pension and the Retirement Collection aims to maintain the pension fund so our priests can keep receiving those funds as the number of retired priests rises each year.  The funds from the one by One campaign will provide retired clergy with support with serious medical issues as medical costs are increasing.