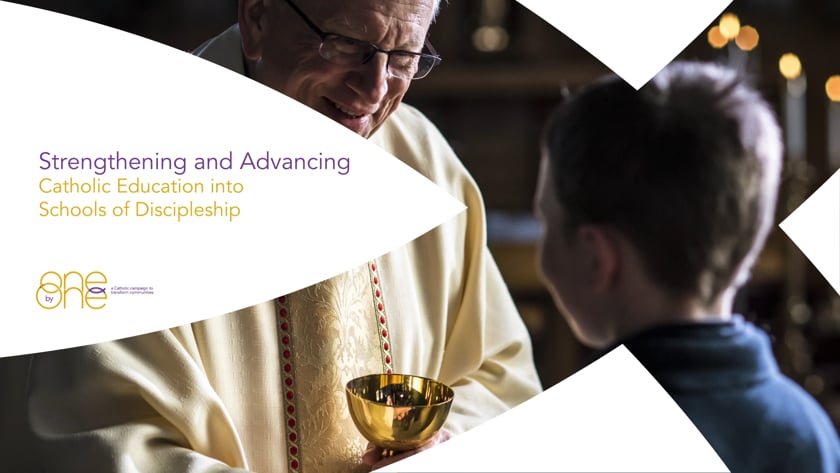 Supporting Catholic Education For Our Youth & Families
Help form our young people and families in the Catholic faith.  Our Catholic schools and faith formation programs are centers of discipleship and extensions of our homes.  Here students learn about how much Jesus loves them and the great plan He has for their lives.  
Strengthening and Advancing Catholic Education into Schools of Discipleship
"Our world needs Catholic schools.  Our world needs faith-based people.  Our world needs disciples who treat people with dignity and respect, with love of neighbor, with forgiving and passionate hearts, to do the work of Christ right here on earth."
Fr. Carl Schmitt, pastor at Corpus Christi Parish, Sturgeon Bay and St. Mary's Parish, Maplewood
Strengthen & Advance Catholic Education
For our youth, the voice of Christ and message of the Gospel are woven into our Catholic schools and parish faith formations.  Our Catholic schools and faith formation programs play an important role in forming missionary disciples to spread the Good News.  Catholic education and faith formation programs grow extraordinary devoted Catholics, who are inspired to attend Mass, receive God's gifts, pursue holy vocations to ordained service and create faithful marriages and households of discipleship.
The one by One campaign will:
Reignite the Catholic character of our schools
Strengthen Catholic school facilities
Ensure access to Catholic schools for middle income families
Increase Catholic school community awareness
Develop innovative, relevant, research based school programs
Strengthen our programs of faith formation and youth ministry
Evangelize and transform families to households of discipleship
Questions about what your schools will receive
That is correct!  There is financial assistance for low income families to have access to Catholic schools.  This campaign addresses giving access to middle income families to attend Catholic school as well.  This will give more families access to affordable Catholic education throughout northeastern Wisconsin. 
Through this campaign we can help many students who attend Catholic schools to be more likely to pursue vocations and become Catholic leaders.  A  student who pursues a vocation could become a pastor or a leader in one of our parishes.  These programs support the future generations of Catholics. 
Catholic graduates carry faith filled morals and convictions that transcend in their professional and personal life.  Statistically 99% of Catholic students graduate high school and have leading academic scores.  Students will be educated in cutting edge academics while also learning about our Lord.  The small group setting allows great one-on-one attention for a student as well.